Why Origin One Is Used For 3D Printing Production Parts
The Origin One is a new resin-based 3D printer from Stratasys. It is available now, and units have begun shipping across the globe. Stratasys is no stranger to printing with resin production parts. Their Polyjet technology has been printing out high detail visualization models, accurate and specialized shop aids, and medical models for many years. However, this is the first vat-based resin system to be added to the Stratasys portfolio and it has a drastically different intended use case.
P3 Technology Is Great For Production Parts
The Origin One is powered by Programmable Photopolymerization technology, or, P3. P3 uses a 4K projector to partially cure the entire layer on each cycle. The parts are then fully cured in a UV chamber. It has a unique pneumatic separation mechanism that prevents parts from sticking to the bottom of the vat, which is a critical reason why the Origin One excels at both large, blocky parts, and highly detailed, intricate parts. Stratasys has partnered with major material manufacturers such as DSM and Henkel to provide a wide range of high-performance resins. New materials are constantly being certified by Stratasys and an Open Materials License is available to fully unlock the machine for research and testing.
With supply chain issues running rampant across industries, businesses are seeking a cost-effective, agile solution to meet the ever-changing demands of their customers. The Origin One is well-positioned to solve these problems by providing production-quality end-use parts in a variety of materials and a machine that grants users full control over their processes. More materials equal more applications. So how are businesses utilizing this powerful technology?
Origin One Materials
Currently, 12+ materials will be available at launch, with more to come. The applications of the Origin One can seem almost endless. Users are regularly finding new and unique ways to utilize this machine. One of the highest performing materials in terms of mechanical properties is 3955 from Henkel's Loctite brand. It has a very high temperature resistance (HDT > 300C), a high stiffness, and meets flame, smoke, and toxicity standards for demanding applications in the aerospace industry. Let's look at one business that is already using this material for their end use parts: TE Connectivity.
Aerospace Application
TE Connectivity designs and manufactures connectors and sensors for harsh environments. They are dedicated to creating a safer, sustainable, productive, and connected future by providing solutions that power electric vehicles, aircraft, digital factories, and smart homes. Last year, one of their existing aerospace clients approached them with a request they did not want to pass up: connectors and holders for a helicopter. This request came with unique challenges as the connectors had never before been designed or produced. The timeline and volume requirements for a production-grade holder meant that traditional manufacturing methods and development timelines were inadequate for both TE Connectivity and its customer. The material choice was another hurdle. FDM 3D printing could provide the mechanical properties required, such as high heat and flame retardant properties, but would not be able to meet the +/- 0.002 in. accuracy. There was only one solution to address their customers' stringent needs: the Origin One.

Today, we're seeing the hardware, the software, and the materials from Stratasys really come together to begin making production scale a reality for us. We believe this helps make TE Connectivity a more agile and cost-effective partner for many of the world's leading OEMs, in industries from automotive to aerospace to appliances, as we work to build a more connected future.

Mark Savage, Senior Manager, Additive Manufacturing of TE Connectivity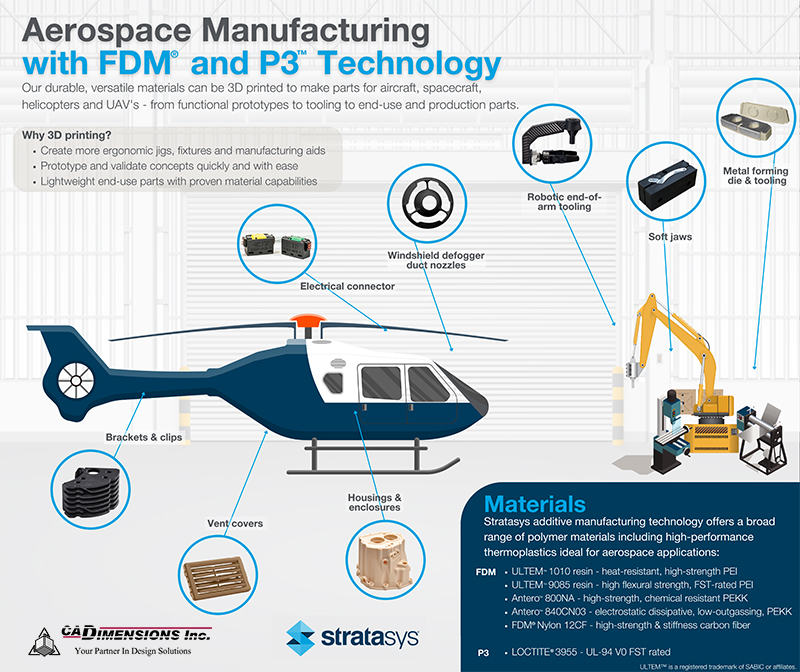 Click here to read the full story or watch the video!
Production Parts For Medical Applications
Another industry that has strict requirements and regulations that the Origin One can meet is the medical industry. Currently, there are two medical materials from Henkel that are capable of meeting ISO 10993-5 and -10 standards for biocompatibility when processed using a validated workflow: MED412 and MED413. MED412 is moderately flexible, ductile, has great impact strength, and can be compared to medical-grade polypropylene. MED413 is a versatile engineering material that is most like medical-grade ABS. These materials unlock many applications within medical device development.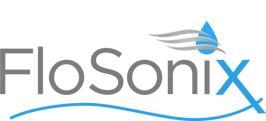 One business that has already produced end-use medical devices using a combination of Origin materials is Eventys Partners, a full-service product launch agency that handles all aspects of product development. They have access to a variety of manufacturing methods, so it's not often that a company would come to them with a request that challenges their capabilities. FloSonix, a leading device for lice eradication, approached Eventys with a new design for a head lice treatment device. At first, Eventys was stumped. The handheld device required biocompatible and heat resistant materials, a lightweight design, and textured grips, all with an aesthetically pleasing appearance. FloSonix was requesting 200 to 300 devices annually. The challenge was the part size, count and design complexity would be too expensive and difficult to accomplish using traditional manufacturing methods. Simply designing and prototyping the product itself would have been cost-prohibitive.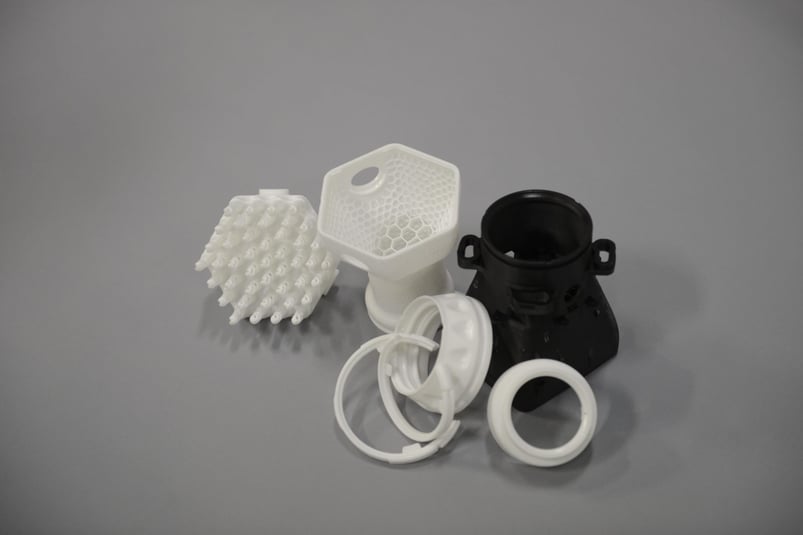 So Eventys was seeking a solution that met their needs of prototyping and end-use production. The team was able to take the FloSonix handheld device from ideation to production with just a single Origin One printer and only required one additional printer to hit FloSonix's annual required inventory.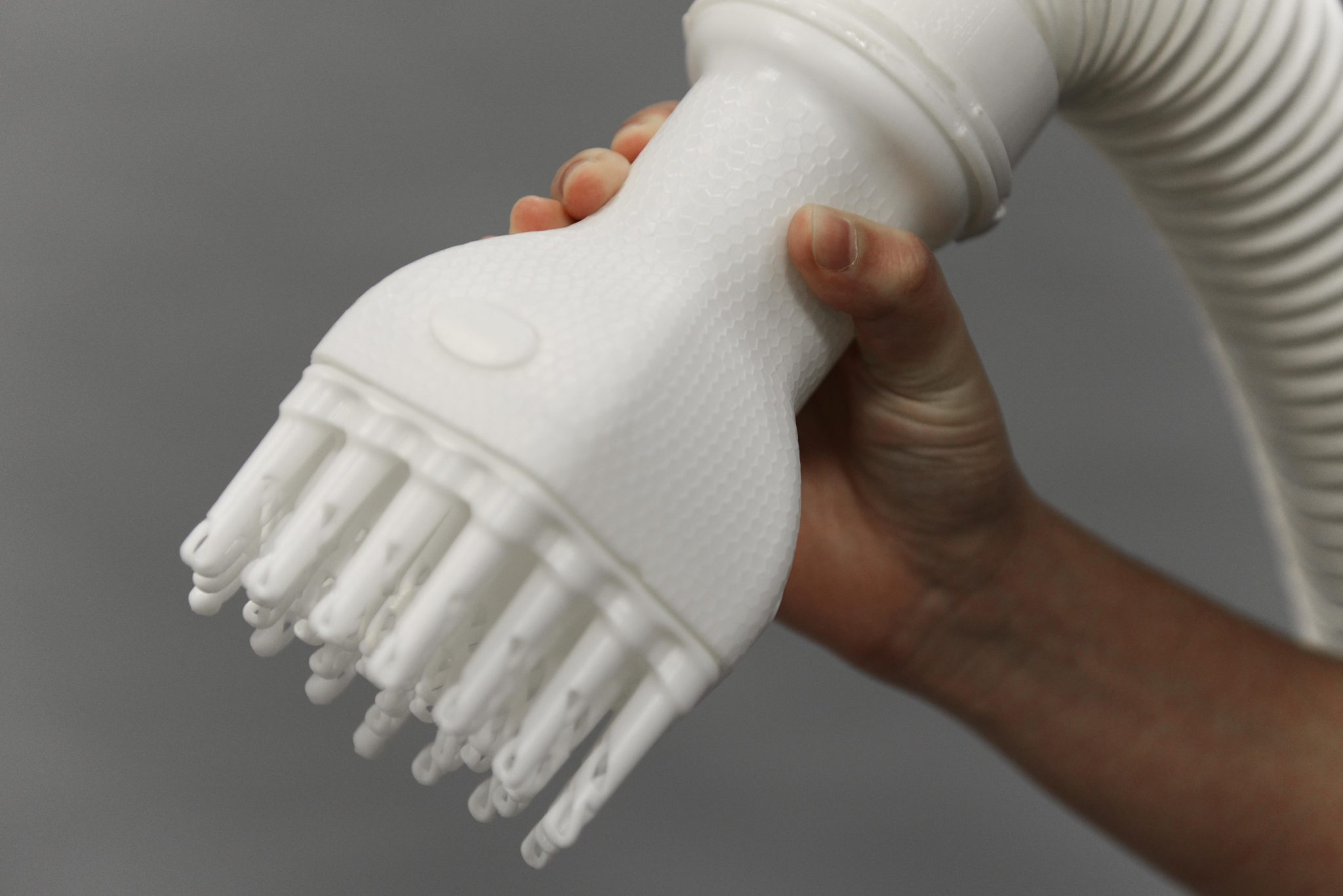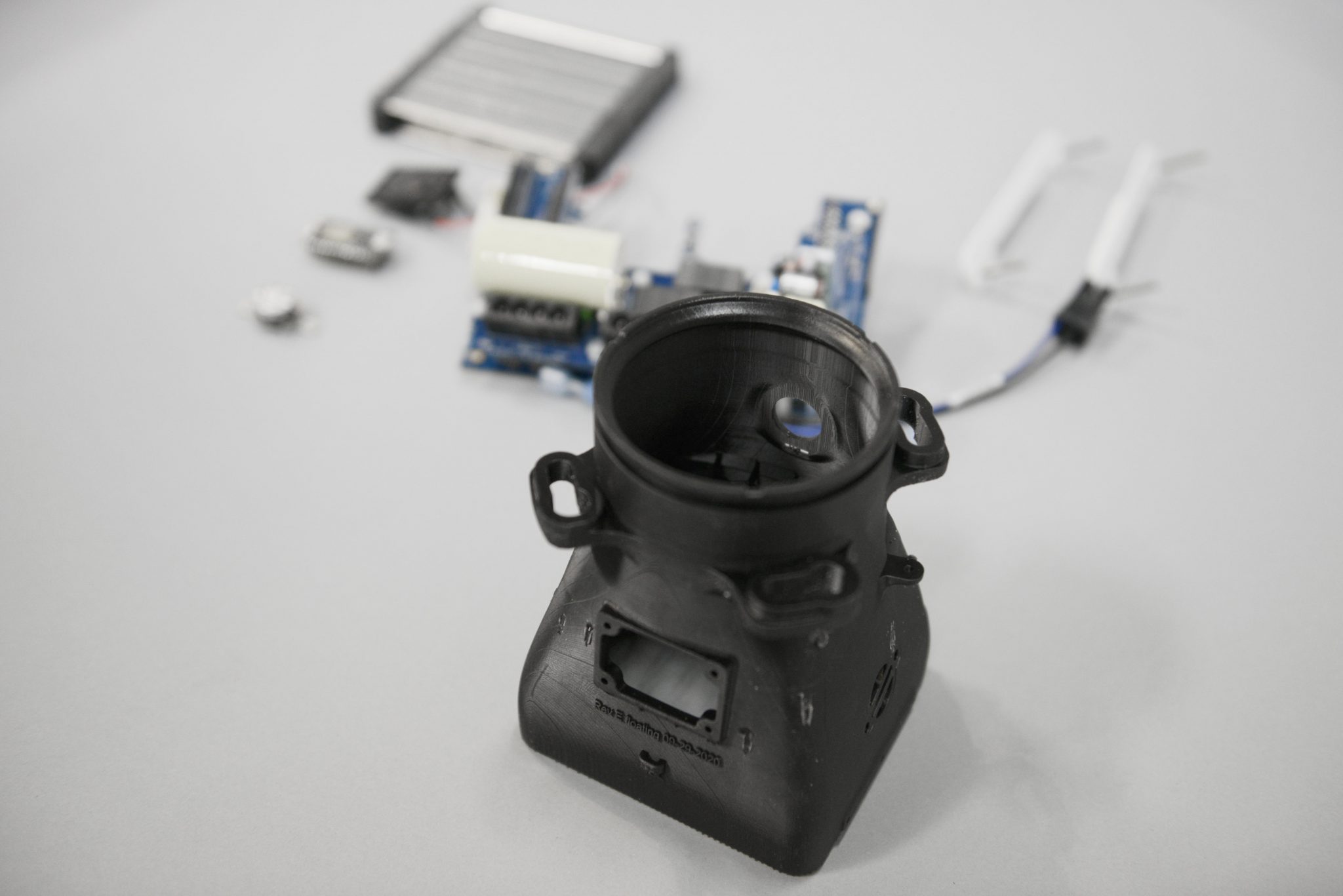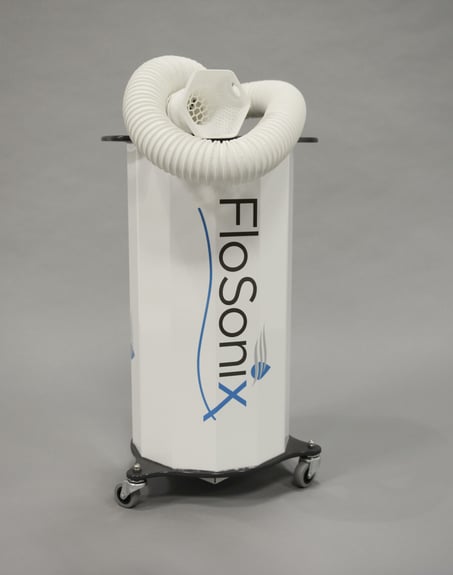 The Origin One has allowed us to not only adapt to changing supply chains, but plan our development in stages; for example, we often like to refine the product in the future, but not immediately. Additive manufacturing allows us to iterate incrementally without having to recut molds, retool, or have to dispose of excessive old stock; this saved us both time and capital that would normally be at stake during redesigns.

TJ Root, Senior Design Engineer at Eventys Partners
Click here to read the full story!
Production Parts Thriving In Freezing Environments In Sports Equipment Applications
With the Origin One, it doesn't stop at just aerospace and medical. Another industry that has recognized the value of custom, production quality 3D printed parts is sports equipment. Technological improvements are key to maintaining competitiveness in the world of sports equipment, but manufacturers are struggling to keep up with the changing customer demands.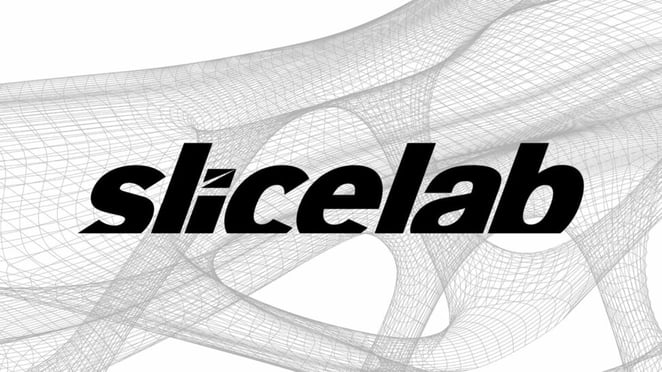 Slicelab and f=f design studios, in collaboration with the Stratasys Origin One and Henkel Loctite teams, took on the challenge to reimagine an integral part of snowboard bindings: the high back. The high back is a piece of a snowboard binding that supports the rider's lower calf which helps them steer the snowboard. The better the part's design, the more control the rider has. The Origin One was a clear choice for its ability to print extended bridges and steep overhangs without sacrificing quality. An internal lattice support structure allowed variable flexibility throughout the part, which would be impossible to achieve with injection molding.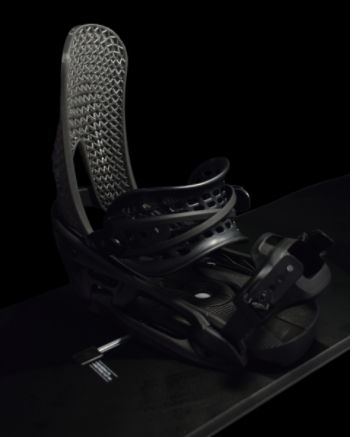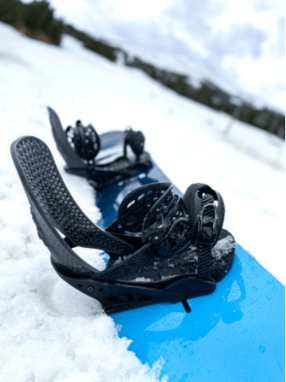 The Origin One material team worked directly with Slicelab and f=f to troubleshoot design iterations, ensuring a perfect print, and selecting the right high-impact, flexible, aesthetic material. They went with Henkel Loctite's IND 3172, which has excellent impact strength and moderate flexibility. The real test was when one of Slicelab's founders, Diego Taccioli, installed one of their high backs, printed the day before, on his snowboard and took to the slopes of Breckenridge Resort in Colorado. They performed exactly as desired.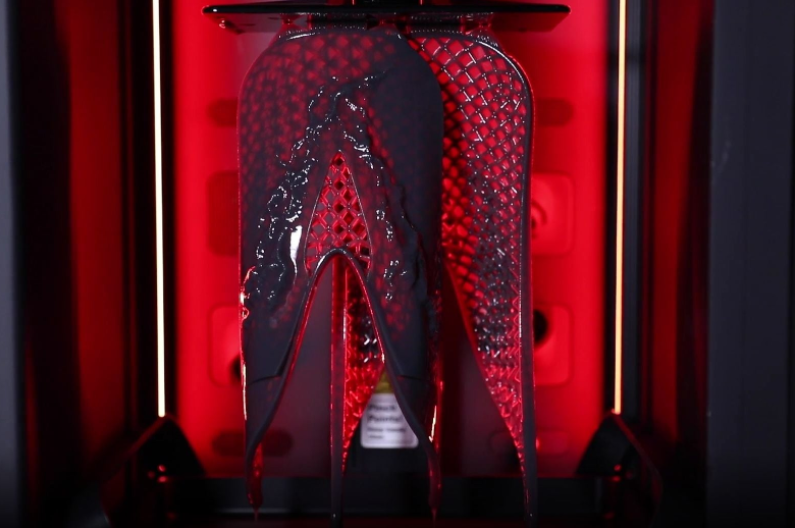 With additive manufacturing being where it is today, it's possible to forecast that less hardware components or sizing adjustment features would need to be built into products in the future. Being able to plug in the mechanical properties of the material into parametric software allows us to simply tweak a few inputs to generate geometry for any type of difference in performance we are looking for, whether it be a casual day of riding or an intense powder day.

Diego Taccioli, Co-founder of Slicelab
Click here to read the full story or watch it print!
Additional Applications
The above case studies are excellent examples of how the Origin One is being used today for end-use production parts, but the applications extend far behind those three. Here are some examples of other applications, all printed on the Origin One from Stratasys.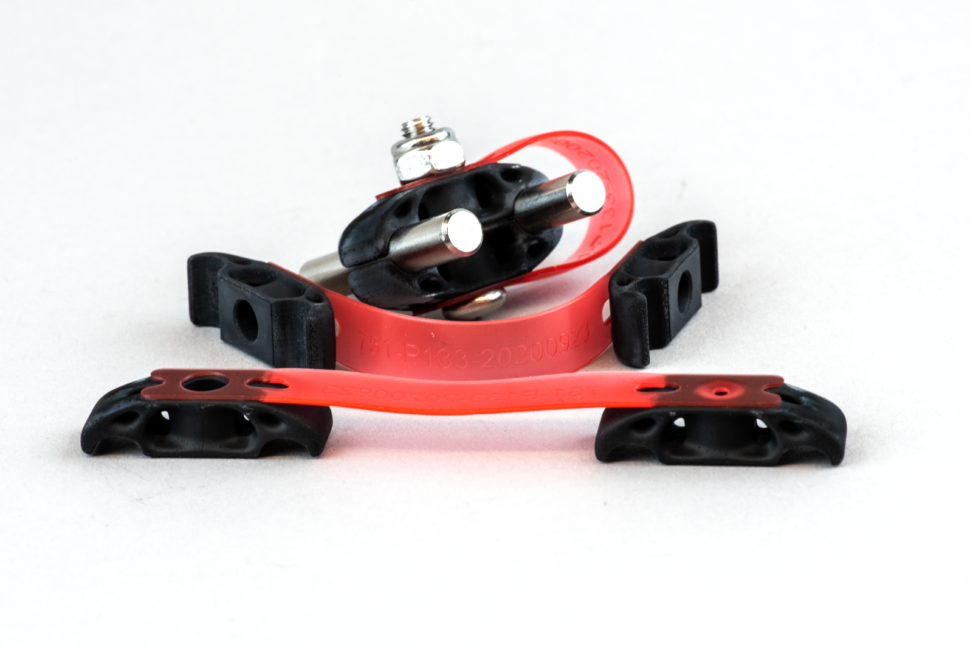 F16 Aircraft Hydraulic Cable Clamp
Designed as part of the US Air Force RSO's Advanced Manufacturing Olympics. This part required strict accuracy while able to endure hot and cold temperatures, vibration, flammability and chemical exposure. This design printed on the Origin One has twice the strength of the original and a 5% reduction in weight.
Material: Henkel 3955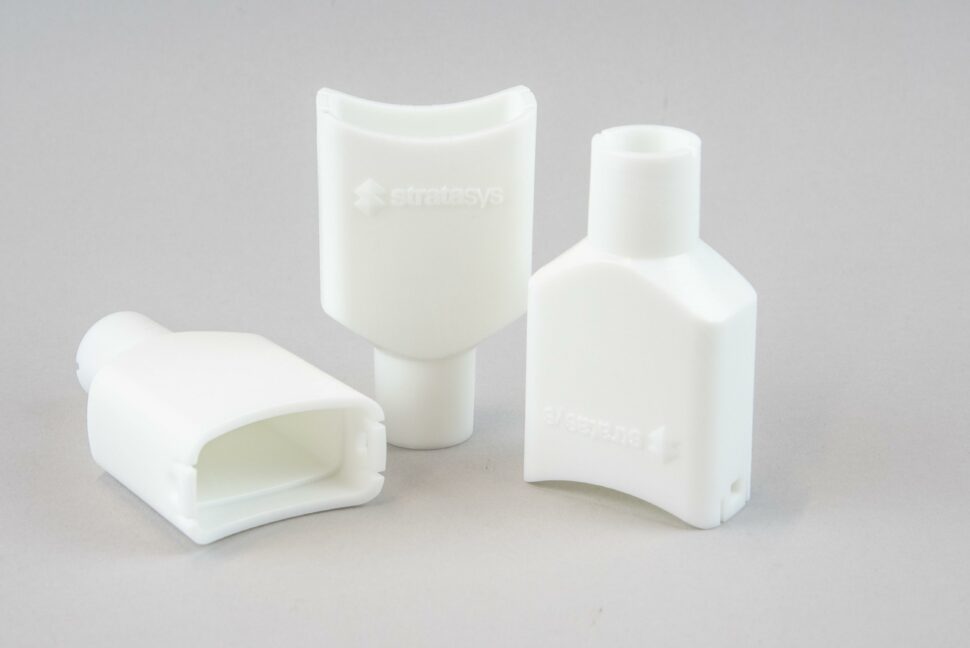 Respirator Adapter
Used to aid airflow within a respirator devices and required biocompatible properties. The global shortage of respirators due to COVID-19 created a high demand for critical production parts with short lead times.
Material: Henkel MED413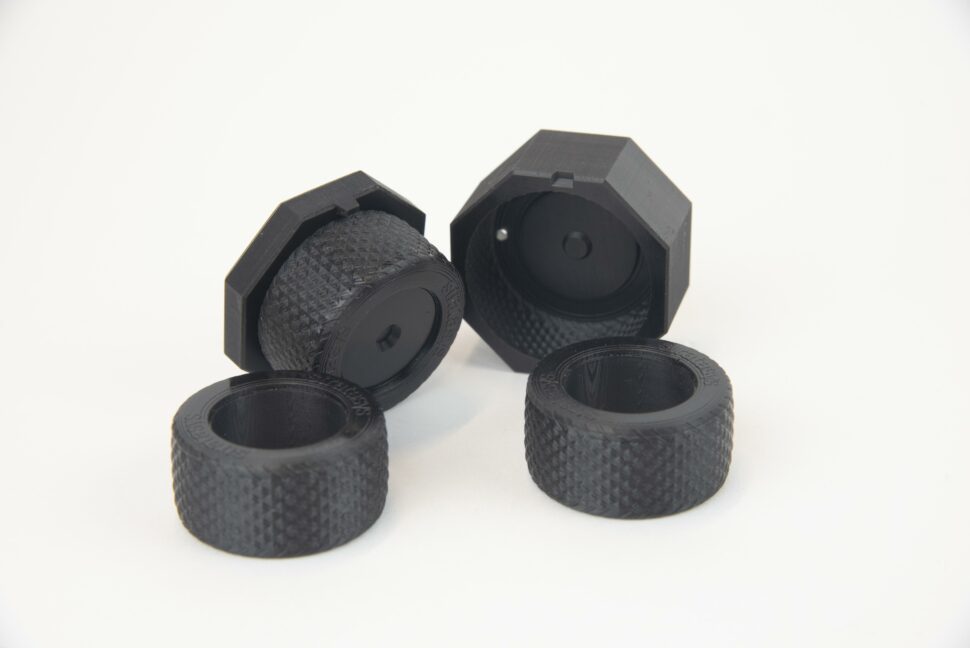 PU Wheel Mold
Mold for an elastomeric polyurethane wheel, compatible with a variety of mold release agents and urethane chemistries, molds have produced over 1,500 parts (and counting) with no mold degradation.
Material: Henkel IND403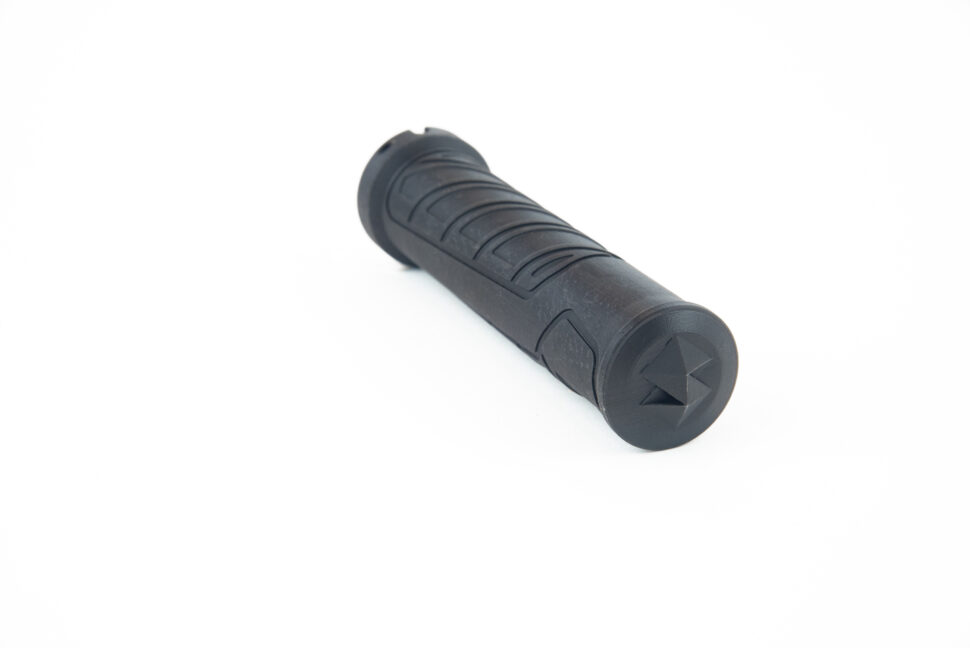 Bike Handlebar Grip
Handlebar grip requiring impact absorption, flexibility, and cushioning properties to absorb the mechanical shock and vibrations that occur during biking in a durable, UV-stable material.
Material: Henkel IND402
The Bull Rider: 90% Of Production Parts Are 3D Printed On The Origin One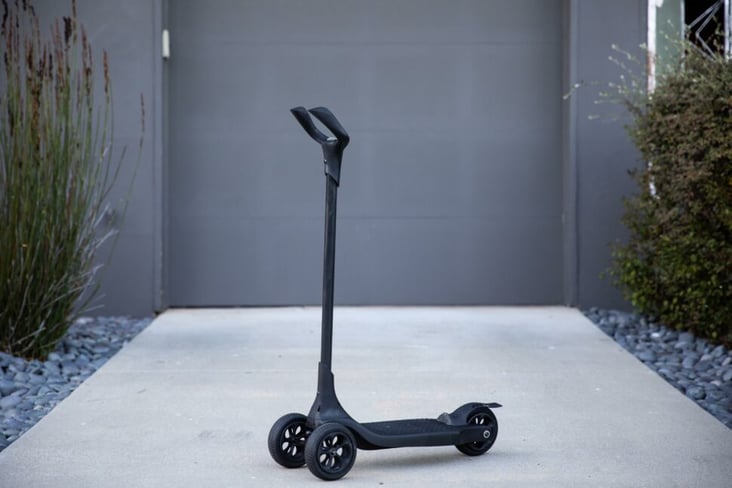 And finally, one of my personal favorite projects to come from the Origin One thus far, the Bull Rider. The new Stratasys Dura56 material by Loctite was put to the test to create a functional, durable kick scooter where over 90% of the scooter's mass is 3D printed parts. The Origin One team partnered with Slicelab and in just 81 days they went from initial brainstorm, three iterations, and then successfully created a finished product. All of the parts were printed in under 48 hours using 3 printers.
Check out this infographic to learn more, or, watch the video to see it in action!