The Importance of the FIRST Robotics Competition
The beginning of every January an excitement begins to buzz and swirl as the announcement of this year's FIRST Robotics Competition is finally announced. Thousands of teams have been waiting for this announcement since last MAY. Each year students, teachers and mentors prepare for 8 weeks of organized chaos to succeed as a team and rise to the challenge set forth. As usual, the team over at FIRST has come up with a great game this year - RISE, powered by Star Wars: Force for Change.
But we need to go back to 1989 where Dean Kamen & Woddie Flowers founded FIRST (For Inspiration & Recognition in Science & Technology), this would be a way to capture the enthusiasm of the students interested in science and technology with the excitement of a sports competition. Kamen was disappointed in the number of students – particularly women and minorities - who didn't consider careers in science and technology. So in 1992 the inaugural competition was held in a small New Hampshire Gym, but has now grown to over 3500 teams from 28 different countries. Forming the future engineers, scientist and inventors of the future that will solve the world's futures problems.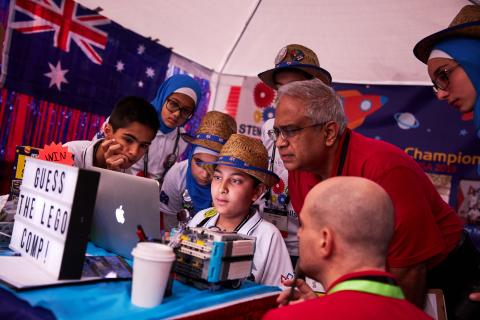 The FIRST Robotics Competition has helped many students to find a path to a STEM career and I was one of those students, in 1996 I was attending Wilson Magnet High school and had a chance to apply for a position on the X-Cats Team 191. I always loved tinkering with my dad's tools, fixing my bikes and taking things apart. So when this was a chance for me to learn about welding, CNC machining, CAD & Robots, I jumped at the opportunity. The 3 years of being on the X-Cats really shaped my college decision to go for engineering and becoming an engineer.
The season Kickoff was always a time of excitement, stress and organized chaos. We couldn't wait to dive into our kit-box and start brainstorming on how to create the most competitive robot. Since my background always leaned towards the mechanical side I always seemed to be on our drives team. This gave me the opportunity to get my hands on the most tools, especially the CNC mills and lathes. This is also where I was first introduced to CAD, it was 2D at the time, but it was amazing to me how we could draw the entire robot in the software and get a visual look at how our robot was going to work and perform. It was also a great tool to use in our brainstorming sessions to test ideas on how to best complete the challenges we were presented with.
I wouldn't have traded any of my experiences with FIRST for the world. I have made many lifelong friends because of the FIRST program and it has opened several doors in my career. But one of the biggest rewards I received from being involved with FIRST comes from supporting all of the FIRST Robotics Competition teams with SOLIDWORKS.
SOLIDWORKS has been the Modeling Solution partner for 6 years now and is getting the best in class modeling tools into the hands of over 1000 FIRST Robotics Competition teams and allowing access to SOLIDWORKS in every team's kit of parts. If you and your team want to learn more please contact us today.