How Medical Device Companies Get To Market Faster
Medical device manufacturers – in every conversation we have – are worried about one thing: speed. The industry is very competitive, and the first company to bring a helpful new device to market is the one who wins over doctors and hospitals.
We have worked with many medical device companies, and have seen the positive impact in-house 3D printing can have on project deadlines.
How In-house Rapid Prototyping Gets Medical Device Companies To Market Faster
The majority of businesses we consult with have some sort of in-house prototyping capability. Unlike other industries that have a 3-6 week timeframe to make prototype parts, the medical industry moves fast. In most conversations, engineers can get parts in-hand in a few days' time. This is most often thanks to some in-house 3d printing initiatives.
However, drawing from these many conversations, the 3d printers at medical device companies easily get booked up.
Outsourcing
When internal resources are fully booked, that is when outsourcing begins. In order to keep projects on track, parts are sent to external 3d printing services or local machine shops. To figure out how much this affects companies, we did some research on popular rapid prototyping services.
We analyzed 6 different parts of different shapes and sizes. We requested quotes from 3 of the most popular 3D printing services using different materials and printing processes. The result? Depending on part size and shape, these popular services would charge 5-10X the raw material cost.
Not to mention, each service would quote a standard lead time of 3-10 days depending on the 3D printing technology that was requested. If you need a prototype part rapidly, there is an additional surcharge.
Rapid 3D Printing
Our PolyJet 3D printers are able to create prototype parts rapidly. UV-cured resin is pushed through inkjet heads onto the build tray to build up models. Because the resin begins as a liquid, ultra-fine layers can be printed.
Liquid resins can be blended together to create full-color models or models that blend rigid and flexible components.
One big advantage that is often overlooked is speed. Let's compare printing a tray of 5 small prototype parts on an FDM 3D printer (F120) versus a Polyjet 3D printer (J750).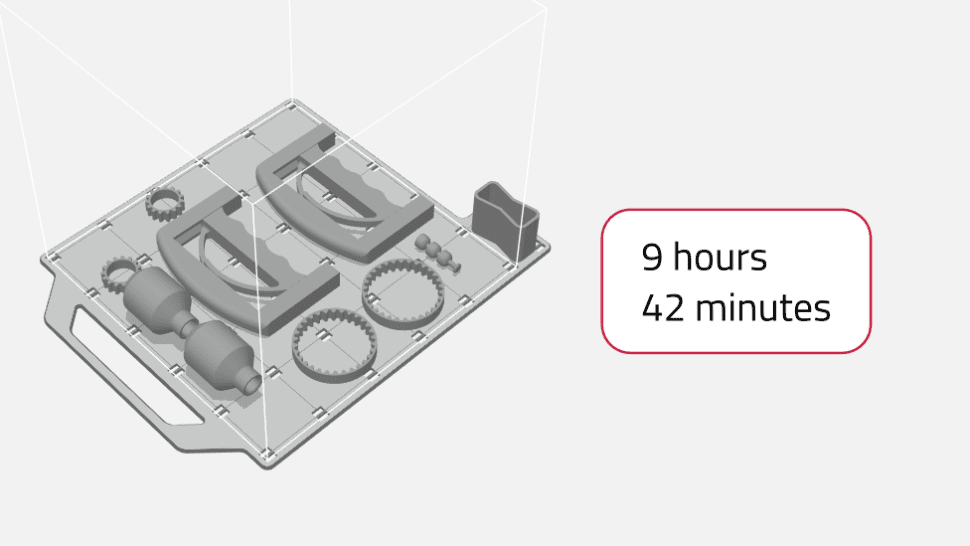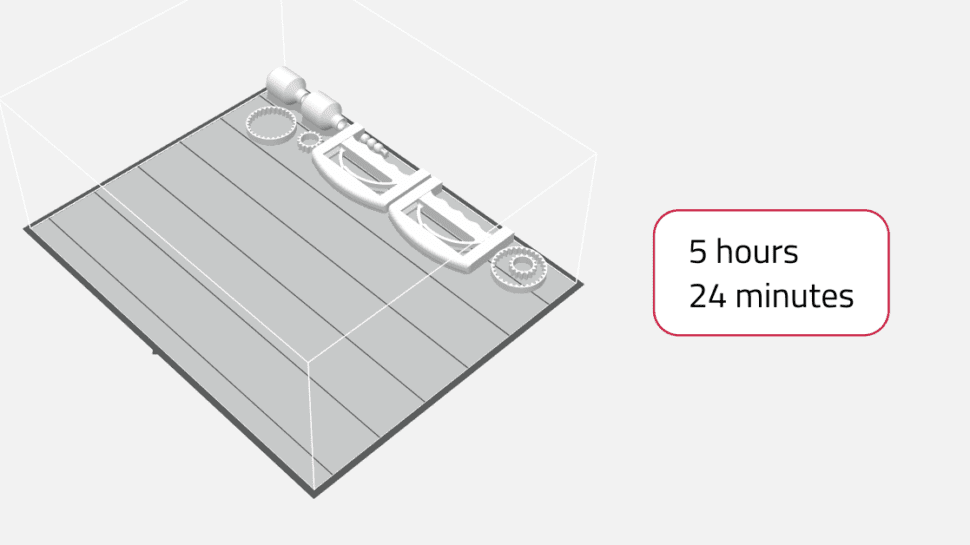 One-Stop Realism with Full Colors and Multiple Materials
Medical Device Manufacturers Save Time With PolyJet
The medical device industry is very competitive, and thus demands rapid product development cycles, unlike nearly every other industry. Most companies we work with have some sort of 3D printing equipment in-house to meet this demand for speed. However, machine time is often quickly claimed, and the resource becomes unavailable for making parts with a rapid turnaround.
The easy fix is often seen to be outsourcing prototype parts, but that comes with a high price tag that is usually tolerated in the short term but damaging if left unchecked.
PolyJet 3D printing technology can print parts quickly, with smooth surface finish, fine detail, and full color true to what the device will look like in production. To see first-hand how it can help medical device companies, check out this case study from Arch Day Design.