What is the Strongest 3D Printer Filament?
We recently produced the second round of torture tests in our 3D printing materials torture test series to see which is the Strongest 3D Printer Filament. What started out as a spontaneous YouTube review video for a new Stratasys material has turned into something that we would love to try on our 3D printing materials lineup!
About the 3D Printer Filament Torture Test
Our Big Joe Lift Truck did a great job testing the FDM TPU 92A, ABS-M30, and Agilus30 materials. A tensile strength machine would have been ideal because of its constant linear increase in tensions and would have done a much better job at precisely recording when our objects snapped. That being said, we were very pleased with how well our rig worked.
We decided to go with ratchet straps to connect the test pieces to the bottom of our fork truck. We thought about using a wooden 2×4 but we weren't sure how much stress we were going to be putting on the board. Although it would have been much stiffer, the chance of it failing under hundreds of pounds of tension was not something we were going to risk. The straps on the other hand are rated for 766 lbs - higher than our force gauge.
Our Previous test had friction from the straps on the fork and was a major flaw with accurately recording the maximum tensile strength for our new elastomer material.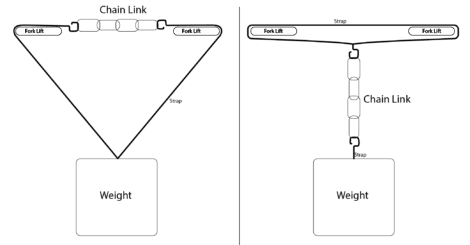 3D Printed Material Strength Test Results
| | | |
| --- | --- | --- |
| Material/Design Name | Print Orientation | Tensile Strength (LBS) |
| FDM TPU 92A: Ring | Vertical | 31.3 |
| FDM TPU 92A: Ring | Horizontal | 147.5 |
| Agilus30: Ring | N/A | 85.7 |
| ABS-M30: Pull Test Part | Vertical | 302.1 |
| FDM TPU 92A: Pull Test Part | Vertical | 299.1 |
| ABS-30: Pull Test Part | Horizontal | 490.8 |
| FDM TPU 92A: Pull Test Part | Horizontal | 323.3 |
About the Materials
We used two different types of 3D printers for our test pieces; the Stratasys Object 500 Connex3 and the Stratasys F370.
The F370 printed our ABS-M30 and FDM TPU 92A test parts. ABS is a very common consumer plastic is used for everything from Legos to your headphones, and most other consumer products.
The Object 500 printed our Poljet Agilus30 Material. Polyjet 3D printing is great for prototypes that need the best surface finish possible with a smooth layer-less look. Models that need various colors, transparency, and rubber-like features are a great fit.
Interesting Finds
All of our tests failed the same way on our pull test part. Adam said in the video that he was hoping that they would fail in the center but he later said that it made sense for it to fail where the two shapes met.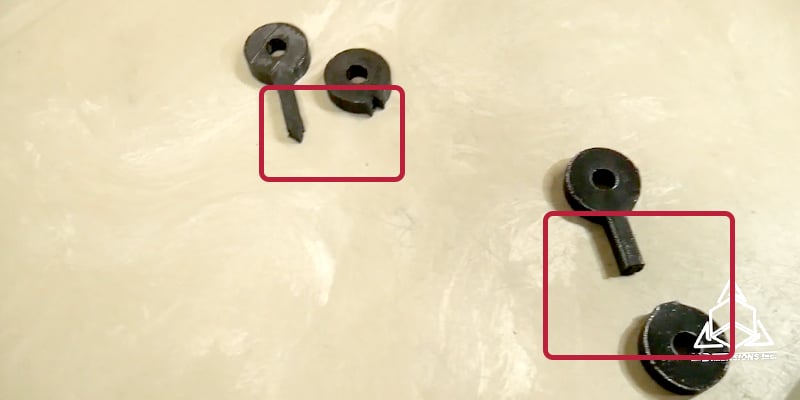 Although Agilus looked and felt similar, FDM TPU 92A is a much stronger rubber-like material.
The part orientation did not seem to matter as much with the pull test part. That means that FDM TPU adheres to the other layers while printing more effectively than its ABS counterpart. My guess is that if each material went through an annealing process, the vertically oriented ABS part would see the most significant improvement. Contact me if you would like to see if we can anneal our prints to improve strengths!
Do you want your designs 3D Printed?
If you're looking for short runs of parts, samples, prototypes, our FabLab is well equipped to handle what you're looking for. CADimensions are the experts for 3D printing in Syracuse with our state-of-the-art FabLab.

Print 3D Parts