Meet Large-Scale Demands for Heavy Equipment Manufacturers
3D printing solutions guide for heavy equipment manufacturers.
Opening doors for manufacturers.
As technology, regulations, and customer needs evolve in the heavy equipment industry, the demand for more efficient and cost-effective manufacturing solutions continues to increase. In this application solutions guide, you will learn about how 3D printing can help you overcome challenges commonly faced by heavy equipment manufacturers as well as gain insight on specific solutions to help optimize your production and profit.
A scalable solution for OEMs.
Traditional manufacturing methods like injection molding, machining, and casting have long been the industry standards. However, 3D printing offers unique advantages that help manufacturers navigate challenges, minimize costs, scale-up production, and stay competitive in an ever-evolving market.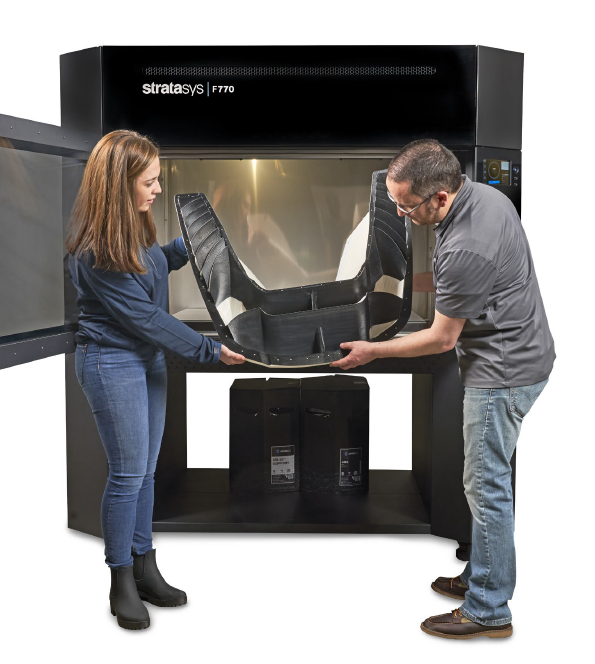 Adapting to electrification and automation.
With an overall macro trend in energy-saving and road safety, more OEMs are moving in the direction of electric-powered and autonomous-driving vehicles. However, staying competitive during these changes requires a much faster part design and functional prototyping solution. In addition to tooling, jigs, and fixtures, 3D printing can be used to accelerate part prototyping and machine redesign around electrical systems. The increased variety of sensors, mounting brackets, and other interior cab fixtures can also be produced to help equip machines for autonomous operation.
Meeting emissions standards and requirements.
To meet ever-changing emissions standards, there has been a need to reengineer exhaust systems to minimize smoking. 3D printing can be used to prototype and produce plastic components for upgrading exhaust systems to meet these new requirements.
Tackling supply chain constraints.
There are often long lead times associated with final part production and the low-volume production of replacement parts for older machines. To help decrease downtime and costs, you can leverage 3D printing to produce "bridge tooling" or custom, lightweight tooling for manufacturing and assembly as well as on-demand replacement parts.
Differentiating aftermarket parts.
When a name-brand machine uses knock-off replacement parts that fail or cause injury to the operator, the blame is often placed on the OEM. To ensure quick differentiation between OEM and aftermarket replacement parts, 3D printed parts can easily be marked with an identifier (e.g., barcode or unique pattern) during the production process.
Withstanding rough use.
Operators are often rough with the equipment they interact with, which has resulted in the manufacturing of heavy, metal parts. However, 3D printing can produce tough, durable, and lightweight end-use components that can withstand rough handling and the stress of the job — for a fraction of the time and cost.
Find profitability in high-mix, low-volume production.
Using conventional manufacturing processes, creating custom or low-volume parts can be a challenge. Some OEMs are limited to producing higher quantities of parts to make the project cost-effective and outsourcing low-volume orders just don't justify the cost and length of time required to produce the parts. Additionally, to meet low-volume demands, excess parts would need to be stored until they were used, discarded, or became too outdated. And if a part is not in stock, OEMs need to purchase the machinery or tools to manufacture it — incurring large upfront costs to produce one-off parts.
With Stratasys FDM® 3D printing technology, you can meet low-volume demands and produce fully customized parts optimized to suit specific customer requirements. Not only does this open the door for additional revenue opportunities, but it also allows you to cut production time for a single part down from weeks to days — and even hours. Plus, you won't have to warehouse hundreds of surplus parts, since the 3D design files are all digital and can be printed on demand.
Real World Results