How do IoT Devices Improve Manufacturing?
You've probably heard the phrase "IoT" or "Internet of Things" thrown around in tech videos or at a conference, but do you know what IoT is? It's an electro-mechanical device connecting to the internet to share data without requiring human-to-human or human-to-computer interaction. I like to think of it as a device that takes in information without having to manually tell it to. Let's look at a couple of IoT sensors and devices to see what they do on our floors.
IoT Integrated Barcode Scanners

The barcode scanner is the most well-known and implemented in the manufacturing sector. Barcode scanners pull, push, and populate data between operators and back-end systems. Barcode scanners save us hours of manually entering data. They can help us quickly retrieve information to better perform our jobs.
IoT Digital Scale Efficiency

My favorite quality control trick is using a digital scale as a quantity counter or inspection tool to ensure all parts are in an assembly. Digital scales offer a quick alternative to manual counting and can check assemblies without having to take them apart. Digital scales can be incorporated into operations to give operator guidance based on output readings.
IoT Smart Cameras Are the Ultimate Go-No-Go Quality Check

Smart cameras use machine vision that can identify, localize, and track parts on a manufacturing floor. These systems are often implemented as a Go-No-Go quality check to ensure processes have been followed correctly. These images can be automatically saved for quality documentation.
So we've established that these devices can save and share information automatically, with little to no human interaction. What's next? What do you do with that data? An IoT device's key feature is how they help you make data-driven decisions in real-time. The devices feed data to a back-end system. This prevents someone from needing to do manual data entry at a later time. This gives a live snapshot of your process, allowing engineers and managers to quickly make decisions about production scheduling, quality assurance, and many others. Too often in manufacturing, we have a reactive "put out the biggest fire" mentality. With the integration of IoT devices and live process information, you can switch your mindset to preventative maintenance and process optimization.
What the Tulip Platform Does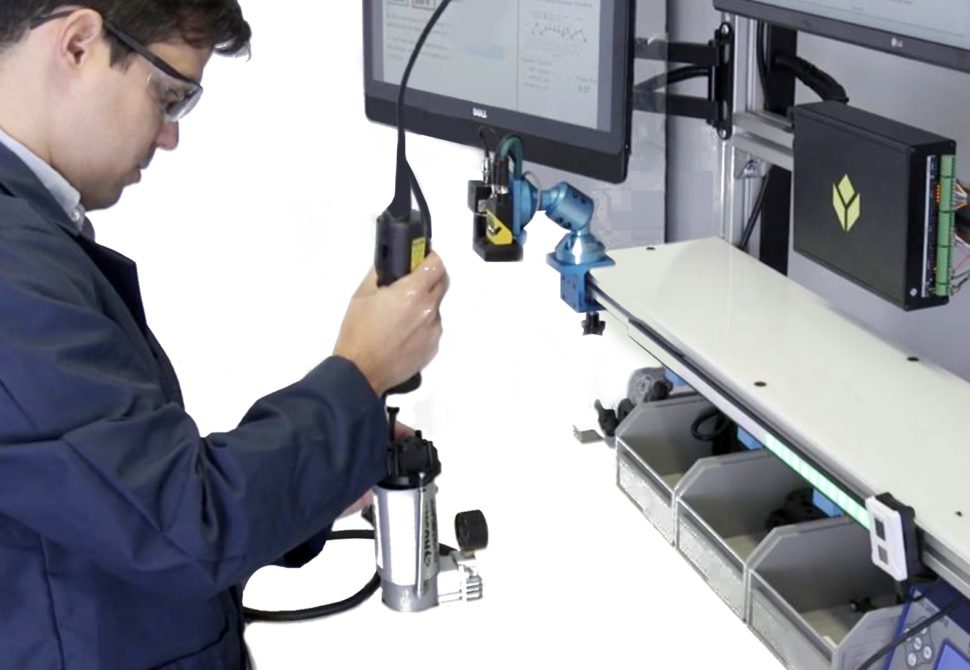 Tulip is a no code-based platform that allows users to create functional user-friendly apps that improve productivity and overall operations. Tulip can be integrated with a variety of different devices, sensors, and machines, all through the easy connect Tulip I/O Gateway. The platform gives real-time production insights and allows you to make decisions based on live shop floor data. Bring all of this together and you can create customized dashboards that give everyone in your process insight to what is actually happening. Take the power of live data to transform how you see your manufacturing floor.