3D Printing Replaces Wood Pattern Making
Latrobe Foundry has been a family-owned business since 1933, adding the 4th generation into the mix in 2014. The company manufactures threaded and flanged aluminum pipe fittings using plastic and wood patterns for a variety of industries, including agricultural, chemical, construction, and marine. With their first location in Latrobe, Pennsylvania, they have recently expanded out to the West Coast.
Finding a New Wood Pattern Maker Was Impossible
When the company's key patternmaker had finally decided to retire, this issue seemed to be minor. During the hiring process, President Ted Steiner realized that hiring a new person was a difficult task, since skilled wood patternmakers are few and far between. With one-third of the business being cast products and all cast products requiring a pattern, Steiner needed to find other options fast.

This is an example of a wooden pattern. This is a replica of the object to be cast, used to prepare the cavity into which molten material will be poured during the casting process.
This quickly developed into much more than just finding a new pattern maker. It became apparent that this was a necessity to improve the pattern-making process. Frequently used patterns require upkeep, especially wood patterns. Wood patterns become worn down if they are not replaced. This results in inconsistent manufactured parts. Management saw this as a serious quality issue. Lead times would increase by "several weeks" if they outsourced their pattern-making, Steiner concluded.
How a 3D Printer Replaced the Wood Patterns
After considering many options, the Latrobe Foundry invested in a Stratasys F170 3D Printer. When it came to making pattern pieces, they were able to stay consistent with sizing, which helped the company save time and money:
"With the 3D printed patterns, all the necessary pieces, which could be even up to ten on one side, are now consistently the same size and the appearance is better. It helped in the machining process because 3D printed parts now have the right shape – like a circle end, instead of an oval or egg shape, which is what happened with the manual process. With a circular end, the machinist can now find the true center of the piece allowing them to better hold the piece which, in turn, produces a better final product. This means that we are no longer scrapping deformed pieces and saving a lot on time and materials."

– Ted Steiner
3D printing technology not only helped with the creation of parts they were sending out, but it allowed them to easily replace parts in-house. When a pattern would wear out, it was as simple as reprinting it to continue production, which allowed the foundry to stay on schedule with orders.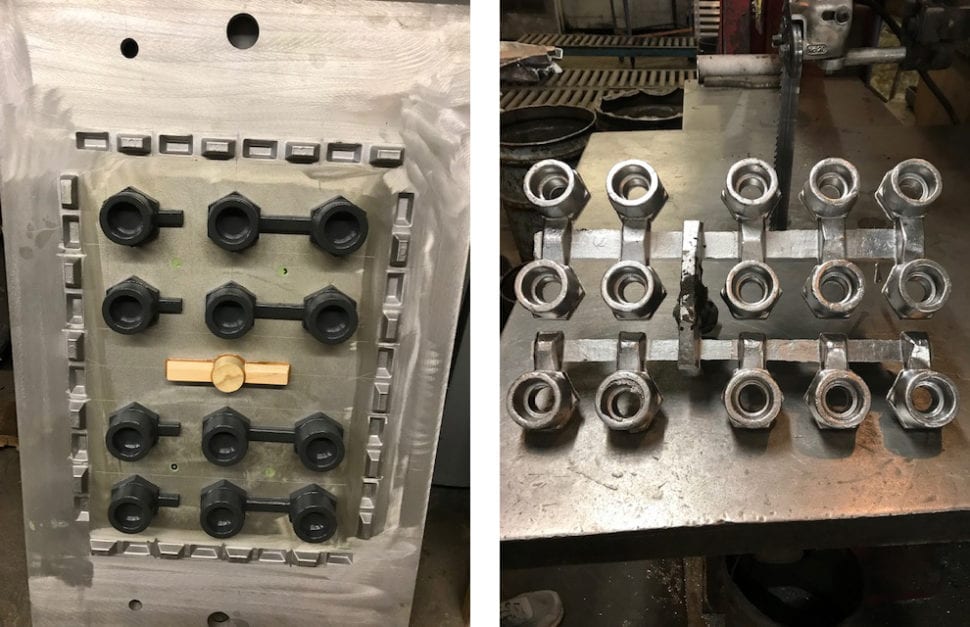 It's not just the Latrobe Foundry and their clients that are happy with the ease of business after purchasing the Stratasys F170. Steiner stated, "the insurance company is happy, too, because wood patterns are no longer around a 1600-degree furnace."
With the company's current growth plans already expanding into the West Coast, the investment in the Stratasys F170 has drastically helped them improve their processes. Enhancing their quality, lowering the cost, and reducing scrap have allowed them to stay competitive and broaden their reach.